Jesse Marsch talks a good game. Just ask him. He's happy to talk to you about how he talks a good game. He's happy to let everyone watch him talk a good game. He'll talk about letting people watch him talk a good game. He's always there to talk and to tell you what he's doing. He loves talking, especially when the subject is Jesse Marsch. Except when you peel back that layer, it's become apparent that he's not doing all that much.
Certainly the Leeds United board didn't think so, as they canned his ass less than a year after they gave him a job they were pretty desperate to give him in the first place. Marsch had Leeds in 17th place, out of the relegation zone merely on goal difference, which is exactly where he found them a year ago. And that was before the club poured in a nearly $40 million net spend on players Marsch wanted. That's the kind of thing boards tend to frown upon.
Marsch will tell you he was unlucky. There is some validity in that, but not as much as he'd like to claim. Sure, they got Navas'd yesterday a bit in losing to Nottingham Forest 1-0. They were unlucky a few games ago when they lost to Aston Villa but were the superior team. Except they made the mistakes that led to the goals against, and that's Marsch's department too, whether he likes it or not. Yes, their keeper can't stop a beachball in the sand right now, and that's been a major problem. Leeds have given up four more goals than their expected goals against, and five more than their post-shot expected goals. But they don't decide the relegation spots on what you should have gotten. They decide on what you gave up and what you got. And even by the metrics, Leeds's xGA was still 14th in the league.
Marsch would have hoped that wins over Chelsea and Liverpool would have bought him enough leash for the season. Except wins over Chelsea and Liverpool aren't particularly special these days. He was done no favors by watching Everton, fresh off the hire of a new manager, toppled the league leaders at home. No question his bosses were wondering if they wouldn't benefit from a new manager bounce, and whether a new manager bounce is going to be the difference between going down and staying up. While Marsch might bemoan performances that weren't rewarded, he has no answers for tossing away three separate leads at Tottenham. Or drawing at home with a previously helpless West Ham. Marsch's reign was full of dramatic wins, and dramatic losses. It never seemed like he or Leeds had anything under control.
Marsch may bemoan not having Patrick Bamford or his team's lack of finishing elsewhere, but most of Marsch's work was so focused on what his team should do without the ball that it's no wonder they could run out of ideas pretty damn quickly. Marsch drilled how they should press and win the ball back, but other than "move the fucking thing fucking forward as fast as fucking possible," there didn't seem to be much of a plan. Also, no team can rely on Bamford given his injury history and the fact that his one-plus season in the Premier League was the one behind closed doors. It was a weird year for everyone, which Marsch seemed to recognize by buying Georginio Rutter during the January window.
G/O Media may get a commission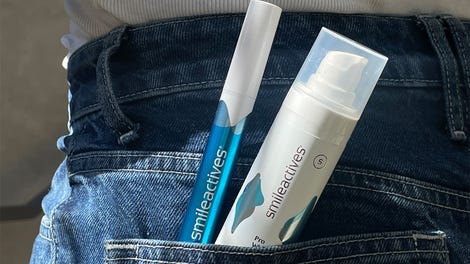 58% off
Whitening Powerhouse Pen & Gel Duo
BRIGHTEN YOUR SMILE
Whiten your teeth at home with Smileactives' one-two punch: the Whitening Powerhouse Pen & Gel Duo. This set will get you the kind of teeth brightening power that uses the same ingredients that dentists rely on for in-office whitening treatments for a fraction of the price.
Marsch may never have had a chance following Marcelo Bielsa, a god to the Leeds fans for getting them back to the Premier League. Bielsa almost certainly would have gotten Leeds relegated with the way things were going, but Marsch was always an easy target for supporters given that he's a Yank and the endless load of shit he likes to talk. Once the fans lost faith in him, there was no way back. It was becoming poisonous at Elland Road. And again, at the end of the day, Leeds have won four games in the league.
A convenient landing spot
The natural talk already is that Marsch is now available, and the USMNT don't have a manager, so let's add that 2 and 2 and get a 4. It's a job he has talked openly about wanting before. He also wouldn't be nearly as expensive as other options, which is always top of US Soccer's priorities. Frankly, it makes too much sense.
Do better, US Soccer. At the end of the day, for all his experience and talk (and talk and talk and talk), Marsch's coaching record consists of one Supporters' Shield with New York, a couple titles with by far the richest team in Austria (who also had Erling Haaland for part of it) and falling flat on his face in both Germany and England. He's been so wedded to the Red Bull system that even Red Bull Leipzig decided he was too far into their ethos for their own good.
And the Red Bull system won't work on the international level. The USMNT isn't one that should be so focused on playing without the ball come the Copa America and the following World Cup. You can't instill that kind of discipline and energy during a summer tournament when players come from an exhausting season and play all sorts of different ways with their clubs. And now the players that Marsch might have molded into that with Leeds — Tyler Adams, Brenden Aaronson, and now Weston McKennie — are going to be doing something different under a new manager, one assumes.
At the end of the day, Marsch hasn't really lifted a team above what they're supposed to do. Salzburg won the league. Leipzig were actually below where they were supposed to be. Leeds barely survived relegation. He hasn't created anything that's more than the sum of their parts.
That won't do with the USMNT coming up. If that's all US Soccer is aiming for they can just stick with Gregg Berhalter. We've seen the USMNT play a tournament essentially "against" the ball, and it left them completely gassed against Holland and utterly clueless about what to do when they did have the ball in that same game. That's not how the US is going to make serious noise in the next two tournaments.
Aim higher. This one's too easy, and taking the easy way out is what landed US Soccer in this pit before.